Wonder Junior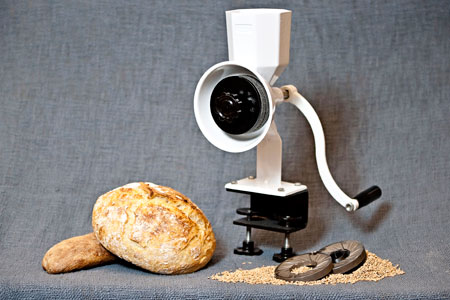 World's Best Hand Grain Mill
It's a big claim to call your product "The World's Best" but we know that after you have used the Wonder Junior Deluxe mill that you will agree. The Wonder Junior Deluxe has the versatility and high quality of the most expensive hand wheat grinder in a price range that is affordable to the homemaker.
The Wonder Junior produces more flour per handle revolution than the Country Living Grain Mill, and for half the price too. The Wonder Junior gives you more options to mill several types, nuts into nut butters, coffee, flax, and many other items not possible in more expensive grain mills.
The Wonder Junior grain mill has been receiving Rave Reviews from Professionals for its quality and affordability, especially in the "prepping world". From specialists such as MD Creekmore, The Survival Mom, Vickilynn Haycraft, Chef Brad, Anitra Kerr, James Stevens, Donna Miller, David Sarti, and the list goes on...
Articles & Resources:
Accessories & Parts Available:


Repair Kit